Acne Relief Product Buyer's Guide (updated September 2023)
SkinB5 Extra Strength Acne Control Vitamins Review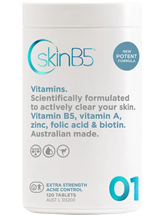 Founded in 2006 by Judy Cheug-Wood, an Australian entrepreneur, SkinB5 promises to clear your skin with its four step program. We were most interested in analyzing the SkinB5 Extra Strength Acne Control Vitamins as we sometimes find that manufacturers will add unnecessary topical creams in order to increase the price of their treatment. 
The positive aspects about these Acne pills is that their main ingredient is Pantothenic Acid, also known as Vitamin B5. There is research that shows how crucial this is for fighting overproduction of sebum (oil) as well as promoting clear, healthy skin. We liked that there was a significant dose of it as well. Additionally, the formula also includes Nicotinamide, which is a form of Vitamin B3. However, the dosage is much less than is found in some other products.
While we were happy to see the inclusion of both Copper and Zinc, the ratio was not what we expected to see. The amount of Zinc was much lower and the ratio of the two elements is crucial for maintaining the correct balance in our bodies.
Vitamin A was found in small amounts, while this isn't ideal, at least it is still within a safe zone of the recommended daily allowance.
Finally, the ingredient which we always look for in any supplement, BioPerine, was sadly left out of this supplement. It always astounds us when this is neglected. This is proven to improve the efficacy of any ingredient in your body by increasing bioavailability. Why wouldn't all supplement manufacturers include it then? That's what we can't figure out!
This combination is a great start for a good formula, however, we definitely feel that it could be much better if it included other key ingredients that have been clinically shown to help Acne. One small issue we did have with this product was that it isn't manufactured in an FDA registered lab and is not made in the US. If this is something that doesn't bother you, then keep reading to find out more. 
Is SkinB5 Extra Strength Acne Control Vitamins Effective?
The manufacturer claims that this is an extremely popular product in Australia, so we were looking forward to seeing proof as such. One of the best indicators of how well this will work is the feedback from people who have used it so we turned to actual customer reviews to see what people really think about it and how well (or not) it worked for them and whether they would recommend it. Unfortunately, this is where we hit a roadblock because we were unable to find any customer reviews on their website, which is a real shame. After perusing sites such as Amazon, we found many mixed reviews.
This was not exactly what we expected to find, but it wasn't altogether shocking, perhaps this is because of the fact it is manufactured outside of the US. We are not entirely sure but are definitely disappointed by it
Is SkinB5 Extra Strength Acne Control Vitamins Safe?
In general, this product is marketed as natural and safe. However, we did notice that one of their ingredients has the potential for unwanted side effects. Chase Tree Fruit Extract, which is one of the ingredients, may cause increased acne, headaches, diarrhea an​​​​​d cramping. Additionally, it may render birth control pills less effective. We would definitely advise consulting with your health care provider before beginning this Acne regimen. 
Summary
SkinB5 Extra Strength Acne Control Vitamins has the right story for a skin care brand. The Australian entrepreneur was looking for a solution to her oily skin and set out to create products to help herself. Whereas many times skin care brands rely on a good story to sell their product, these Acne pills are backed by clinical research. There is a hefty dose of Pantothenic Acid (Vitamin B5), there is a somewhat good dose of Nicotinamide (Vitamin B3) and while the ratio isn't ideal, there is still the inclusion of Zinc and Copper. There is also a small inclusion of Vitamin A. All these ingredients are found in the research showing benefits for Acne, but in doses that are more fitting to the clinical research. 
Additionally, there are some ingredients which are missing from this product. One that is a rather important one is BioPerine. This increases bioavailability which means it takes ingredients and boosts their efficacy so that they work as best as possible in your body. We expect that supplements across the board, no matter which ailment they treat, will have BioPerine. 
We liked that the price tag isn't so cheap it screams low quality, yet still affordable for those looking for long-term Acne relief. But we were uncomfortable when we noted that there is only a 14-day return policy and only on damaged goods as well as an autoship option. Both these details insinuate that the manufacturer is trying to reel in buyers without concern for customer service. This is a huge negative point for us when we found so many products out there that do offer a money-back guarantee that to find one that doesn't offer any kind of guarantee is alarming. Does that mean they don't expect you to experience good results? Are they not confident in the products' ability? Who knows, we can only guess the answer to this question. 
The final point we noticed is while we were impressed that this company follows the international Good Manufacturing Practices (GMP), it is not manufactured in the USA. That aside, we know that his company has a good reputation and they manufacture many quality products which we find to be a redeeming feature. We feel that this product was almost there but would need a few tweaks to reach our prime position. 
What You'll Discover:
✓
Which Acne Product is the BEST BUY and comes with a great GUARANTEE!
✓
Which formula and ingredients are the most EFFECTIVE and work the fastest?
✓
How NOT to get ripped off! BE AWARE of poor quality and cheap products.
The Top 6 Items to Consider:
Ingredients
Cost Per Serving
Product's Testing Results
Company's Reputation
Consumer Reviews
Return Policy & Satisfaction Guarantee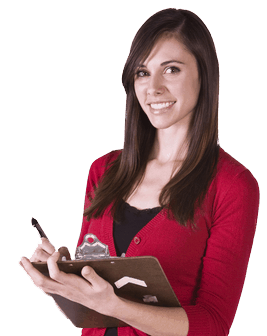 Sign Up For Our Newsletter!
We will send, straight to your inbox, the latest and most relevant information regarding x to keep you updated and informed.
Our promise: We will never share your contact details, unless you give us permission. And, we will only ever send you information that is helpful and significant.