Acne Relief Product Buyer's Guide (updated September 2023)
Acnetame Review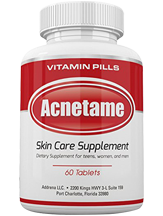 This review examines a product called Acnetame. With an impressive website and informative blog, we were excited to delve deeper into the formula of these Acne pills. Unfortunately, we couldn't actually find a copy of their label anywhere on their website. Thankfully, we found it on Amazon and so we could get to analyzing its ingredients. 
The first thing we noticed was the high amount of Vitamin A. This is actually quite concerning as Vitamin A is fat-soluble which means that you can actually overdose on it. This is because it is not easily excretable from your body (the way water-soluble vitamins are). The guidelines for women are not to exceed 700 mcg per day and for men not to exceed 900 mcg per day. The actual amount contained in this product is 2500IU or 750 mcg. Which means, if you are a woman, you should be cautious about taking these pills!
The next thing we noted is the large dosage of Pantothenic Acid which is excellent. While we were also glad to see the addition of Niacinamide (Vitamin B3) we were disappointed to learn that there is only a very small amount in each serving.
This product is relatively cheap but if you are looking for long-term Acne relief, this may not be a great option as they don't offer any sort of discounts for multiple purchases. Larger, more established companies usually will offer bulk discounts to try and garner loyalty in their client base.
Where this product fails to impress us is their money back guarantee if you are not happy with the result. While there is one, it is only for 30 days and is only valid if up to 14 pills have been taken. This is upsetting because most oral Acne supplements advise to take them for at least a month before seeing any results. Is the manufacturer assuming that after a month this product won't work? It's unclear and leaves us uneasy as to what we can expect.  We are left feeling slightly disappointed in this product, to say the least. 
Is Acnetame Effective?
Because of the extremely short time period for their money-back guarantee, we needed to check customer reviews to ascertain the chances of this product working within the first two weeks of using it. At first we were amazed by the sheer volume of reviews found on Amazon! However, upon closer inspection we were quite wary as the side effects listed are actually very serious.
The positive reviews focused on people who had hormonal Acne and extremely oily skin. If you are someone who has this skin type, this product may very well work for you. This may be due to one of their active ingredients called N¬Acetylcysteine (NAC). It claims to remove toxins which can build up in the skin. Because of this, Acnetame says its product will make your skin worse before it makes it better. It just depends if you're willing to take that risk.
If your skin is not super oily and you dont have hormonal Acne, this product may not be as effective for you. Many people complained of dry skin, dry eye and face peeling when taking Acnetame. Even worse, were side effects such as hair loss, itchy scalp, headaches, stomach pains, vomiting, constipation and even vertigo. Again, it's up to each individual to decide whether it's worth it to risk these potential side effects. 
Is Acnetame Safe?
In terms of safety, there are the aforementioned side effects to look out for. Additionally, and more importantly, is the amount of Vitamin A contained in Acnetame. If you are a woman, you must speak to your physician before taking this.
As with any new supplement or diet introduced into your daily life, we always advise talking to your healthcare professional about possible contraindications of any pre-existing medical conditions or medications that you are taking. Supplements work differently for everyone and the effects vary between individuals so it is always a good idea to run any health changes with a professional.
Summary
At first, Acnetame appeared to have most of the qualities we look for in an Acne supplement because it includes key ingredients in its formula such as Pantothenic Acid, Niacinamide, Vitamin A and BioPerine. However, upon closer inspection, we found many concerning items that make us hesitant to fully recommend this product. 
We are uneasy with the amount of Vitamin A that these pills contain. This is an extremely high dose and even exceeds the amount of Vitamin A a woman should take in one day. 
The amount of Niacinamide (Vitamin B3) is extremely low for an Acne supplement. This is notable due to the amount of research done on Niacinamide to lower inflammation and reduce oil production in skin cells.
While we are ecstatic to see that BioPerine is included in Acnetame, because many Acne supplements mistakenly leave it out, it is unclear how much of it is actually in there. Acnetame lists it as one of the ingredients which is part of their 'proprietary blend' which means we can't know if there is enough of it.
If we could turn to a solid money-back guarantee, we would have felt better about Acnetame. However, it is only for 30 days and is only valid if up to 14 pills have been taken. When a manufacturer truly believes that their product will work, they offer a real money-back guarantee. Our other product reviewed, AcneTru, has one for 60 days with the option of returning open and empty bottles. For us, that says it all.  
What You'll Discover:
✓
Which Acne Product is the BEST BUY and comes with a great GUARANTEE!
✓
Which formula and ingredients are the most EFFECTIVE and work the fastest?
✓
How NOT to get ripped off! BE AWARE of poor quality and cheap products.
The Top 6 Items to Consider:
Ingredients
Cost Per Serving
Product's Testing Results
Company's Reputation
Consumer Reviews
Return Policy & Satisfaction Guarantee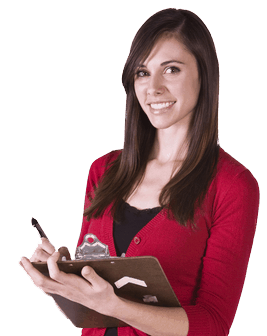 Sign Up For Our Newsletter!
We will send, straight to your inbox, the latest and most relevant information regarding x to keep you updated and informed.
Our promise: We will never share your contact details, unless you give us permission. And, we will only ever send you information that is helpful and significant.